There have always been games, which allow players not only to have fun but also to improve their intellectual skills or create something special. Today's games include these elements, and you can play them both in real and virtual lives.
One of the most interesting and useful for developing mentioned above sides is a construction game. It is a gripping game, which offers an opportunity to discover a creative mind inside ourselves and make us think logically at the same time.
Best Bridge Construction Games for Android:
1. Bridge Construction Simulator: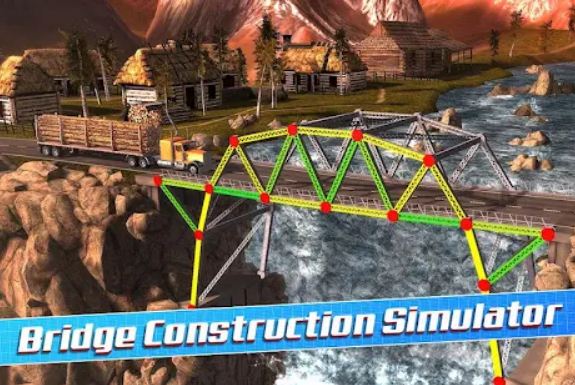 This simulator puzzle game is one of the most interesting among different constructions. This is the result of several separate factors, which work perfectly together.
One of these factors is the visual side of the application. It looks like a real-life scene, and the game develops this effect by giving its users realistic circumstances for construction. You will feel like a real builder, who has to construct a bridge with his or her resources.
All your skills will be required during the game. You will adapt to the tasks, think logically, experiment, improvise, calculate, take into account various characteristics of a given location, and do all these things as fast as possible due to the deadline.
There are different levels on the app, so when you find a solution to the current session, you will get a more difficult task then. This may seem hard, so the application will help you with a hint when needed.
You can also change the modes on the app: normal and hard. The first one will offer you an easier version of the game, for example, with a wide range of resources or in an appropriate construction location. But you will also have a bit more difficult levels in this mode.
Another mode can look impossible for construction, however, it is not true. The hard mode was created in the way to be quite challenging, and sometimes extremely difficult, but you shouldn't give up on the first try.
Even if you have failed to build a good bridge, you will be shown your weak points and then you have a chance to redo something. With the Bridge Construction Simulator, you will be improving your engineering skills by correcting mistakes.
2. Bridge Constructor Playground: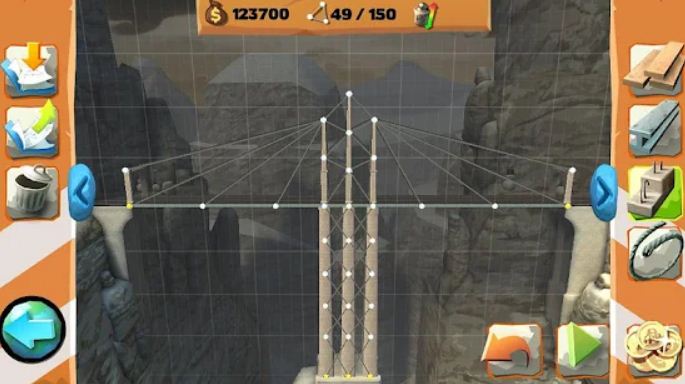 This application is a wide-known bridge constructor game. It was written about on such websites, as "Chip.de", "appshopper.com", "Educational App Store" and some others. These websites consider this app as fun, legendary and creative, which suits all ages.
There is a fan base of the game because it is a sequel. This version is thought to be even more fun and interesting.
The application offers its users 30 levels. The next level is more difficult than the previous one. Each of the levels has five challenging steps, which you need to accomplish. In total, there are 160 challenges to master, which will give you an unforgettable experience.
You will get more difficult tasks and develop not only your building skills but also a career on the app. Start as an ordinary builder and then become a construction expert.
The game suits all members of the family, as it is very simple and easy and can have various tough spots in some challenging points. There is also a guide on the app, so you can play with it for the first time and then master other levels by yourself.
Along with the guide, the Bridge Constructor Playground application offers a free mode, which you can start with. If you like the game, you can buy the premium package then.
3. Bridge Constructor Stunts: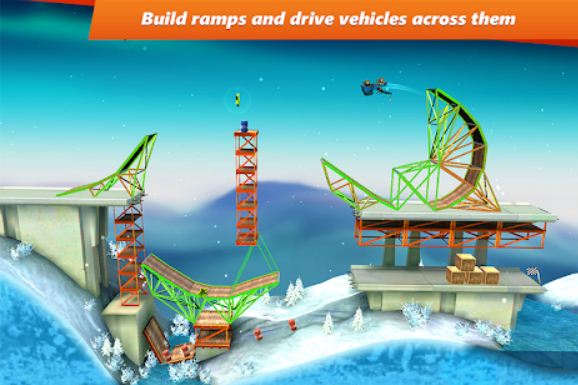 This application is not an average bridge constructor game. It combines two games inside itself: you are going to build bridges and then test them yourself as a real stuntman! So it is in your best interests to make a safe and comfortable road.
You will get awards for both activities – constructing and driving. You can compete and try to beat the high score to be the best player on the Bridge Constructor Stunts application. All this is possible provided you have built a reliable bridge and maneuvered it professionally.
For constructing a good bridge you will be given different materials with their specific characteristics, different ramps and loops, and much more. Try to build your bridge with thoughts of your future ride and current game goals.
To get a piece of advice, share your successes, or make your races and jumps unforgettable in the history of the game join the community of the Bridge Constructor Stunts application. The app has a big fan base, which can say a lot about its quality.
4. Build a Bridge: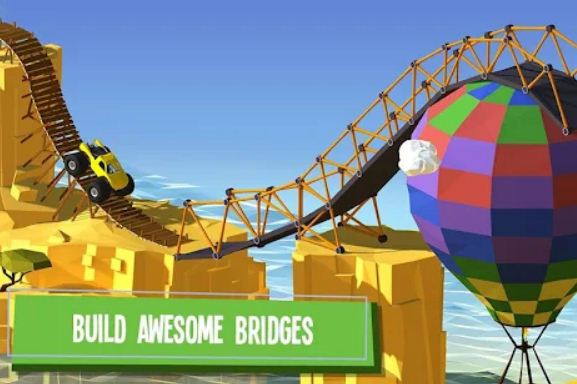 This application is a winner of the "The most innovative game of 2017" award. This fact shows that it is not a usual constructor game. This application has a good old constructor format and is very original and gripping at the same time, which makes you take a fresh look at such games.
If you install this application, you will get a classical constructor, but with a lot of varieties, different features, and a great art style. The graphics of the game will surprise you not only with its beauty and style but also with its interactive elements, which diversify your playing process.
All locations on the app are colorful and bright and what is more important they work with real physics, You need to take into account various laws of mechanics to build a good bridge.
Moreover, you will need to adjust it for various vehicles: from cars and buses to monster trucks! Try to deal with these tasks, unless you want to see a legendary crush.
Each level has space for different variations of your construction. Don't be afraid to improvise and experiment while building your bridge. You can have different approaches for each level, trying to make a simple and plain bridge on one and create your dream bridge on the next.
There are 86 direct levels and a lot of hidden and bonus levels on the application. You will spend a lot of time constructing, improving, adjusting, and having great fun.
5. Bad Bridge: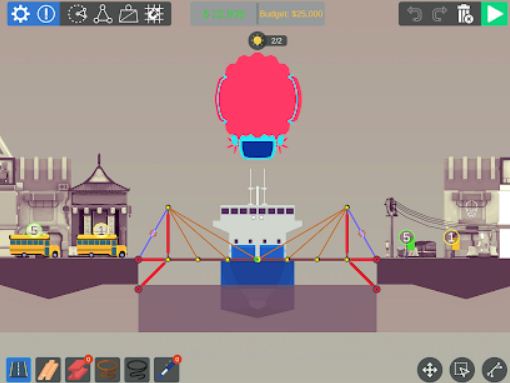 This application was created to give its users complete freedom regarding the construction of bridges. There are no such things as right or wrong in the game – you can build those bridges, which you want, and then see if they manage to deal with the traffic.
If you fail, for example, your bridge has fallen or broken down, or something in it has led to a collapse on the road, you will just start a new attempt. Try to make your bridges as safe and creative as possible. There are no limits to your imagination.
You can add your own bridge designs and make constructions with their help of them. If you find yourself in a difficult spot, you can use the help of the application. It will give you a hint and then you will gradually come to the right solution.
The Bad Bridge application offers its users more than 120 levels with varying degrees of difficulty. All these features guarantee you a long and fun pastime.
6. Railway bridge – build bridges:
This application is a classical bridge constructor, however, it has certain peculiarities. The main point of the app is that you can only build railway bridges, traveling by train.
When you have built the first bridge for the train, it will automatically go to the next level and you will have to build another bridge for it, too.
You will have a wide range of various materials for constructing a bridge: the rails, ropes, and some others. While constructing make sure you have considered the characteristics of different locations in the game, such as deserts, mountains, snow, and so on.
Each next level will have a more complex puzzle, and you will develop logic, physical knowledge, and engineering skills, trying to master tasks on them.
There are 36 levels and 4 different locomotives on the application, To try them all you will have to pay for a premium version on Google Play.
7. Mega City Underpass Construction – Bridge Building: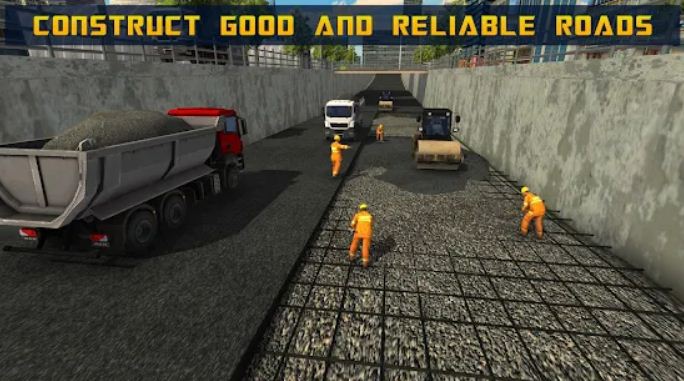 This application is a city bridge constructor, which has pleasant 3D graphics, interesting levels, challenges and missions, a great number of machines and tools, and much more.
The game presents itself as a simulator of real life. A user will get various multiple tasks for creating a bridge in a virtual city. You will have the same location during the whole playing process, however, the problems and challenges will vary.
For constructing a bride you will use a lot of different machines, each for a certain purpose or at a particular stage of the construction. For example, if you need to lift something, you can use a crane. If you plan to build a tunnel, you will need to work with a road roller first.
You will need to make a strategy for your constructions and follow your plan. If something goes wrong at any step of the building process, this will make it much harder to complete your task until the deadline.
The game is absolutely free of charge, and you can enjoy it without any limits.