A great cartoon app for yourself can turn you into a cartoon with just a couple of steps. We all grew up watching cartoons as children and have often been immersed in the world of cartoons at a young age, probably wondering what it would be like to become a cartoon character and live that life for a while.
As adults, the caricature of ourselves may not be the wonder we always dreamed of as kids, but it's a lot of fun and it's a unique twist on presenting yourself through social media, instead of following the trend of posting selfies. These are also great for setting up distinctive profile pictures for those who want their profiles to stand out from the rest.
Both the iOS and Android platforms offer a litany of cartoon apps for users to draw themselves, modify their appearance with special effects, and share those images with loved ones and social media followers. Here is a quick list of the 15 best cartoon apps to turn you into a cartoon character with ease.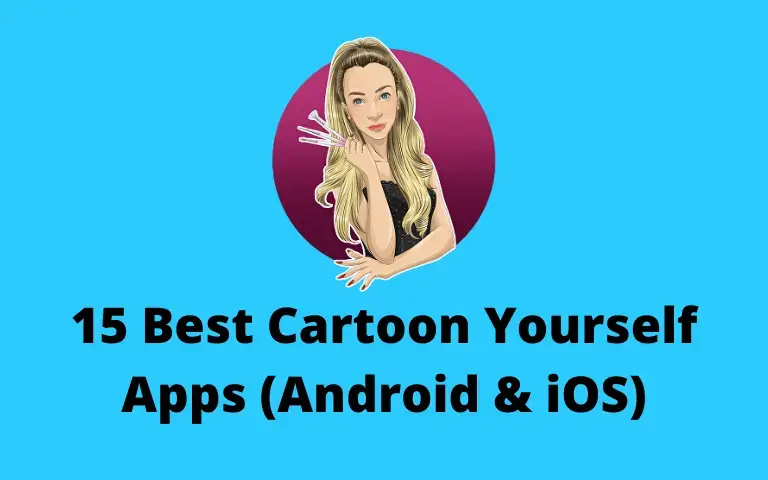 Best Cartoon Yourself Apps:
1. Caricature of Yourself
Download: Caricature of yourself for Android | iOS (Free)
Cartoon Yourself app allows you to take photos or import any of your photos and turn them into your cartoon version. You can also transform photos into cartoon sketches as well as black and white cartoon renderings.
The app is very simple to use. All you have to do is select the photo, choose one of the three conversion options you want, and hit Apply.
Photos can be decorated with a variety of stickers if you like, then saved and uploaded to any social media site.
2. Cartoon Sketch
Download: cartoon sketch for Android | iOS (Free)
There are no extra steps or efforts required with Cartoon Sketch. In fact, the key appeal of the app is its openness and simplicity. Skip the frills, bells and whistles, and get right to the point.
You choose a photo and with just one touch you transform it into its cartoon version. Images can be saved and uploaded anywhere you want.
3. My Cartoon
Download: my caricature for iOS (Free)
While My Cartoon is an iOS exclusive app, it achieves great results for Apple users by transforming photos into great cartoon representations of themselves.
You can make multiple cartoon versions of the same images, save them to the app's gallery, and even caption them for great comedic effect.
There are multiple cartoon styles with normal, classic, doodle, vibrant, and even vintage paper cartoon effects. That, along with tons of upgrade options, leaves the possibilities for how your cartoon character ends up looking almost endless.
Those cool effects could give you an easy and fun way to remove red-eye from your photos while turning them into cartoons.
4. Pop Moji
Download: Moji Pop for Android | iOS (Free)
A unique feature of the MojiPop app is that it not only allows you to create cartoons but also gives you the ability to share those creations as stickers and emojis in your daily conversations through text messages or social networks.
You can save the stickers to your device as part of your emoji library on Android and iOS platforms.
5. My Sketch
Download: my sketch for iOS (Free)
With the My Sketch app, you can turn any new or existing photos into sketches. Add your own special touch to 20 different sketch types by adjusting color, contrast, brightness, and framing.
You can then share your beautiful and realistic sketches with friends through various social media platforms. Currently the My Sketch app is only available on iOS.
6. Paintwork
Download: paint for Android | iOS (Free)
Turn your photos into cartoon masterpieces with Painnt, one of the leading apps of its kind, using over a thousand different effects and filters.
The powerful photo editor allows a great deal of control in terms of color saturation, brightness, and transparency.
But Painnt is more than just a cartoon app. It hosts a community that contributes their own artwork to the library for people to explore and share, allowing you to connect with other photographic artists who are passionate about photography in cartoon conversions.
The app is free, with many features available in the free version, but there are subscription features (starting at $9.99) that will increase the size of the file you can export to your device or social media and allows for more HD images. be held.
Also Check:

12 Best Free Hairstyle Apps To get Attractive Look in 2022
7. Funky
Download: BeFunky for Android | iOS (Free)
This iOS-exclusive photo enhancement app is easy to use and can do a lot to modify your photos, including converting them to a cartoon version.
You can change the appearance of the photo to make it look like it was taken with a toy camera, vintage style, or through a pinhole.
In addition to ordinary features, you can use a wide range of editing tools to give photos all sorts of cool effects.
You can also share your altered or cartoon version of your gallery photos on social networks.
8. Clip2Comic & Cartoon Maker
Download: Clip2Comic and Cartoon Maker for iOS (Free)
Clip2Comic & Caricature Maker is a free photo editing app that converts images and videos into cartoons. As of now, the app is only available on Apple devices.
The app offers extensive tools that you can use to improve the quality of your image. Whether you use your finger or Apple Pencil, you can transform your caricature into a work of art.
The warp tool is a great way to make your caricatures and cartoons more unique and fun. All your photos will turn out fine.
The free version has limited features and there is a watermark in the lower right corner of the saved images. If you want to use the app for professional products, you can consider purchasing the premium version.
9. Pixlr
Download: Pixlr for Android | iOS (Free)
If you are looking for a way to combine multiple cartoon effects, Pixlr may be a good option for you. Its amazing yet simple editing software makes editing your photos easy and fun. You will find it easier to use than other editing programs.
The app goes beyond just making a caricature of your images. You can experiment with the different filters to create illustrated portraits or decorate photos with any number of styles or stickers.
10. MomentCam
Download: MomentCam for Android | iOS (Free)
MomentCam allows you to create absolutely hilarious and adorable emoticons, customizing them for any situation that requires them.
In addition to emoji and sticker creations, your designs can earn you a variety of prizes offered through the app. Best of all, you can connect with other users and share your creative creations.
11. Photo Sketch
Download: photo sketch for Android | iOS (Free)
As its name suggests, Photo Sketch is a great pick for people who want to turn their photos into simple pencil sketches or cartoons. You can also edit the images with the many available effects to make them look magnificent.
The application allows you to save the remodeled photos, as well as send them by email and share them through social networks. You can even compile original collages using the various photos you designed.
12. Prism Photo Editor
Download: Prism photo editor for Android | iOS (Free)
Prisma Photo Editor is a free and easy-to-use professional app that allows Android and iOS users to turn their photos into cartoon versions.
It features a ton of tools for advanced photo editing capabilities, as well as a vast collection of fun stickers that can be added to the project. This app can be for fun and games, but it can also serve as a useful tool for a professional photographer.
13. Avatoon
Download: Avatoon for Android | iOS (Free)
Become your cartoon doppelganger with the Avatoon app, another fun option for an image caricature tool. Create avatars for yourself and your friends, edit various facial features, and share your photos to make everyone laugh.
14. Cartoon Photo Editor
Download: cartoon photo editor for Android | iOS (Free)
With impressive results, Cartoon Photo Editor is a great choice for modifying apps. All of the app's many effects can be previewed before saving the image in real time, allowing traditional rear-facing camera images and selfies to be turned into colorful or black-and-white cartoons.
Features include autofocus to make sure the image is at its best, as well as thermal vision and shading effects. There are also many other filters to choose from. The app is free, but they also have to pay the bills, so their revenue is supported by ads.
15. FlipaClip
Download: FlipaClip for Android | iOS (Free)
Remember those little moving stick figure flip books you loved as a kid? Well, FlipaClip offers you the chance to do just that with your photos.
Beyond a simple cartoon app, FlipaClip helps you use cartoon images taken in sequential bursts in a flipbook.
You can scroll through them to see the same effect you would see with a paper version. You can also check other artists' contributions to the app and give feedback on them.
Conclusion:
It can be challenging to choose the best cartoon drawing app as there are so many options available. Whether you care about image quality, hand shape availability, number of cartoon effects, or export features, there should be something for you on this list.
Let us know what your favorite cartoon app is in the comments section below. And don't forget to share this guide.