Today people seem like cannot be separated from music. Thus, they bring their gadget with the headset or earphones anywhere. They choose to listen to the latest update or music that relates to their mood. If you are kind of someone like this, then, you better know the best music apps without WiFi this year.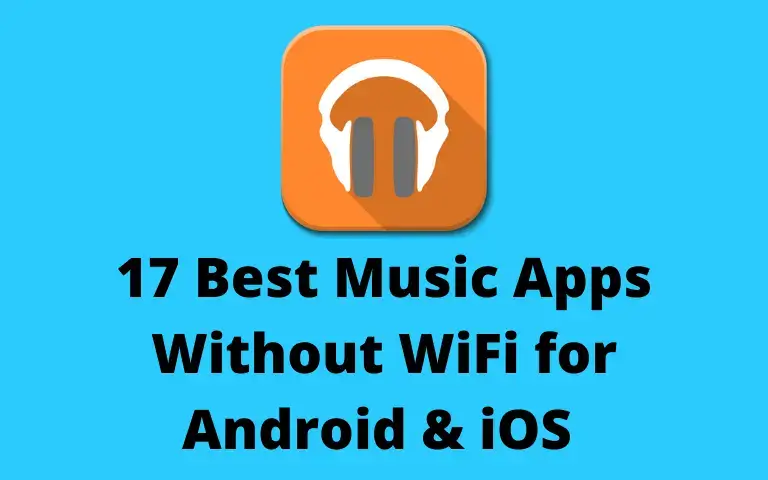 17 Best Music Apps Without WiFi or Data for Android & iOS
Before we mention all the best offline music apps in 2021, perhaps you already owned one app to listen to a playlist. But what we have here are the special ones. Some people recommend the apps because it is more than free from data charging or internet connection. You will find something unique from the music apps without WiFi below:
1. Google Play Music
It is one of the top music apps without WiFi anyone uses. This app has lots of features that suit everyone's needs. That is why Google Play Music becomes the top of people's picks. Besides it is free without WiFi, you can also upload the music you love in a free cloud and of course, you can access it offline.
If you want something new, just download it from the same or any device. Don't worry to have limited recommendations because there are more than 50k songs you can choose from. Furthermore, Google makes this app more personal by categorizing the songs based on activity, language, or even someone's mood.
2. Spotify Music
Spotify is as famous as Google Play Music as a free WiFi music app. Even though it is also available in the subscription version, the free one is good enough. With its millions of songs collection, you are free to pick anything you want. Then, make your own list or let this app plays randomly for you.
One special thing that we think not all music apps without WiFi have is Spotify lets its users upload their own songs. It provides a room to embrace your creativity. Once you put it in the cloud, you can set whether your song can listen to by the public or not. Feel the new experience for music on the go by having Spotify on your Android or iOS.
3. Apple Music
As the Apple user, it is a must to have Apple Music on your gadget. This offline music player app allows you to enjoy the music without any interruptions. Once you have downloaded your favorite artists or tracks, you can directly save them into a playlist. By switching to the offline mode, you can listen to the saved ones with no data needed or an internet connection.
Actually, Apple Music is able to be used by Android users too. This is what makes the app unique because it is not exclusively for Apple users. Apple wants everyone to feel the same convenience in listening to music. But, you have to pay for this app if you install it on Android.
4. Amazon Music
Amazon Music becomes one of the beloved music apps without WiFi because it supports various languages, such as Tamil, Telugu, and Hindi, until other languages you might not know from a part of this world. More than that, this app is completed with smart Machine Learning, so it has a personalized music track.
However, if you want to enjoy this app free of internet connection, you need to be the Amazon Prime member. The free trial is 30 days, after that, you have to pay the cost. But we think it is worth paying because you will also be free from ads, get access to the latest release, have millions of soundtracks, and unlimited skips.
5. Gaana
Let's listen to music using Gaana. It is the right app for those who have unique music tastes, such as Bollywood, old songs, or even other languages songs, like from Hindi, Tamil, or Telugu. This free of WiFi app helps you to discover new music and a different section. You will find the collection of ghazals, bhajans, and many regional tracks most come from Indian languages.
If you don't understand the language, don't worry because it has a lyric feature. This is available even though you access Gaana without a data charge. So, just choose your favorite music and artist, make your playlist, and enjoy the real high-quality music.
5. SoundCloud
Are you confused about choosing the best music apps without WiFi? We also recommend you to install SoundCloud on your Android or iOS. This app really eases everyone to enjoy music just by one click. When you tap the "likes" button, it will automatically save to your list and you are free to listen offline. Or, you can create a list based on your mood too.
The other reason why SoundCloud became the best offline music player app is its biggest repository of the song on the internet. It creates a huge online sharing community too, so you can create and share a playlist or your music creation. If your music is loved by many people, you can make your online community here.
7. Deezer
Not many people know that this app has another meaning which is "unlimited music". Unlike the other music apps without WiFi, Deezer gives you the best music personalization according to your preferences, such as rock, classic, pop, heavy metal, and many more. Since the first time you sign up, this app asks your genres. Thus, all the information you will get will be adjusted.
By downloading this app, you can enjoy the offline music experience at that time. One more unique thing you should know that Deezer has an alert feature. When you follow one artist and he/she updates the music, you will get a notification. So, by using Deezer, you are the first person who knows the newest music release.
8. Pandora
We can't skip Pandora when talking about the best music apps without WiFi. Even though its collection is not as much as the other offline music player apps, Pandora is a good friend to listen to music. Because it has an additional function that probably the others don't have. For example, the alarm clock using your favorite song.
Besides the free version, Pandora is also available in the other two versions: Pandora Premium and Pandora Plus. Both of them give you unlimited skips and replays, high-quality audio, and ad-free. The difference is the Pandora Plus lets you enjoy the personalized radio, while the Pandora Premium offers you the personalized on-demand music and podcasts.
9. Napster Music
This is one of the music apps without WiFi that requires payment. But, hold on, wait for a second. You better know how worth to pay for the Napster Music first. This app is really great because has no ads inside. Also, you can download many songs as you want, create playlists, and use the recommendation section to get the latest updates.
If you are unsure about this app, then just try its 30-days free trial. We assure you will fall in love with the app and want to continue by subscribing to it. The fee is used to support their creativity because during the time the Napster team always upgrades the app for your convenience in listening to the music.
10. Shazam
You should know that Shazam is a powerful music search engine. It is an excellent application to have. It helps you to find lyrics and other information, such as the artist's biography. Also, you can share your search result with your friends. With over millions of music databases in various languages, there is no hesitation that Shazam should be your music player app.
Do you wish something more? Enjoy the flexibility of listening to music from other apps, like Spotify or Play Music. Shazam syncs the songs to the third-party player. If you want to sing like in your concert, just use the karaoke feature which will remove the singer's vocals as well.
11. Guvera Music
Guvera Music is not only the best music apps without WiFi, but also it is popular for online music player app too. The reason is simple because Guvera Music is free and you can get many benefits inside. There are many music genres, foreign artists, sharing features, and until the ability to create a radio using hashtags.
For the paid version, of course, you will get more advantages, like free-ad, exclusive access to the latest database update, until seeing the name of downloaded songs. We might say that seeing the interface is an interesting point too. The look is very clear, easy to use, and modern.
12. Evermusic
Not many music apps without WiFi support the user to use their cloud, like Google Drive, OneDrive, Box, or Dropbox. But Evermusic is here to let you assemble music from any cloud. So, just compile all your favorite songs in one place, then let this app play for you. If you want something new, you might need a little connection. But once your storage updated, you can switch it off again.
Evermusic can also be used to listen to an audiobook. There are three useful features for this: audio bookmarks, playback speed control, and saving of media position. So, when you are in traffic or having free-time, just open Evermusic and enjoy everything you want to listen to.
13. MusiXmatch Lyrics Player
This app is quite similar to Shazam where you can find millions of songs and also the lyrics. This is a fun app for those who are learning a new language. They can learn and enjoy music at the same time. As one of the popular music apps without WiFi, using MusiXmatch Lyric Player is so easy and no need waiting for loading.
If you are curious about the additional features, you can enjoy the LyricsCard which allows your favorite lyric as a background. When you connect this app to Spotify, it will be easier to identify each song. It is not complicated in managing your songs and lists, so you can adjust the music as you want.
14. MusicSense
It is an interesting free WiFi music player app. The app is so smart because it will automatically identify your preference through your Facebook account since the first login. Or, the app will read your iTunes history so it gives you the best recommendation for the music you should listen to.
Surprisingly, all music inside is free, and no need to be downloaded. Just choose the genre as you want and make your Favourite Tab, it is a feature where you can save your selected tracks. For other features, there are also radio stations, new music suggestions, and analysis for your music collection.
15. JioSaavn
JioSaavn is one of the best music apps without WiFi. Now it has over millions of active listeners every day. But, this app is especially for Indian music lovers. So, if you are looking for the updated Bollywood songs, then JioSaavn is the right app. Since you visit the homepage, you can feel a modern showroom of Indian music collection. There are also charts and radio shows to choose from.
Upgrade your membership into the Pro version. It would be more convenient because you are able to use it offline. Also, you can have playback control, genre selection based on performers, high-quality music, and no-ads or banners for sure. This app is a complete app to enjoy music and radio stations at the same time.
16. TIDAL Music
If you wish to listen to music and enjoy the video clip at one time, then the TIDAL app is the answer. Compared to the other music apps without WiFi, TIDAL is a definition of the real music player app. It allows you to access millions of tracks and hundreds of thousands of music clips. Moreover, you can download them anywhere and anytime.
If you have interesting updates or ideas, you can share it through social networks. TIDAL connects you with friends and other people. There is no boundary in sharing ideas, an artist's biography, and many things. Take the advantage of playback features to scale up your comfort.
17. Musify: music audio player
The other music apps without WiFi recommendations are Musify. This offline music player app is connected with SoundCloud and Jamendo services. You can only enjoy Musify on iOS. With its million collections, you don't need to be confused about finding the right songs. Because Musify helps you to find the desired music using keywords or categories.
Start the music stream with one tap on the screen. After that, you can enjoy the music you choose. Moreover, the interface is so simple, clean, and bright. It adds more value for the user because listening to the music and seeing the streaming are at the same comfort level.
Conclusion:
So, as our final thought, all of the music apps without WiFi above really need to be on your Android or iOS. It is okay to have more than one if the app can support you in enjoying the music. For the best experience, we really advise you to be their premium member to get full freedom and flexibility.